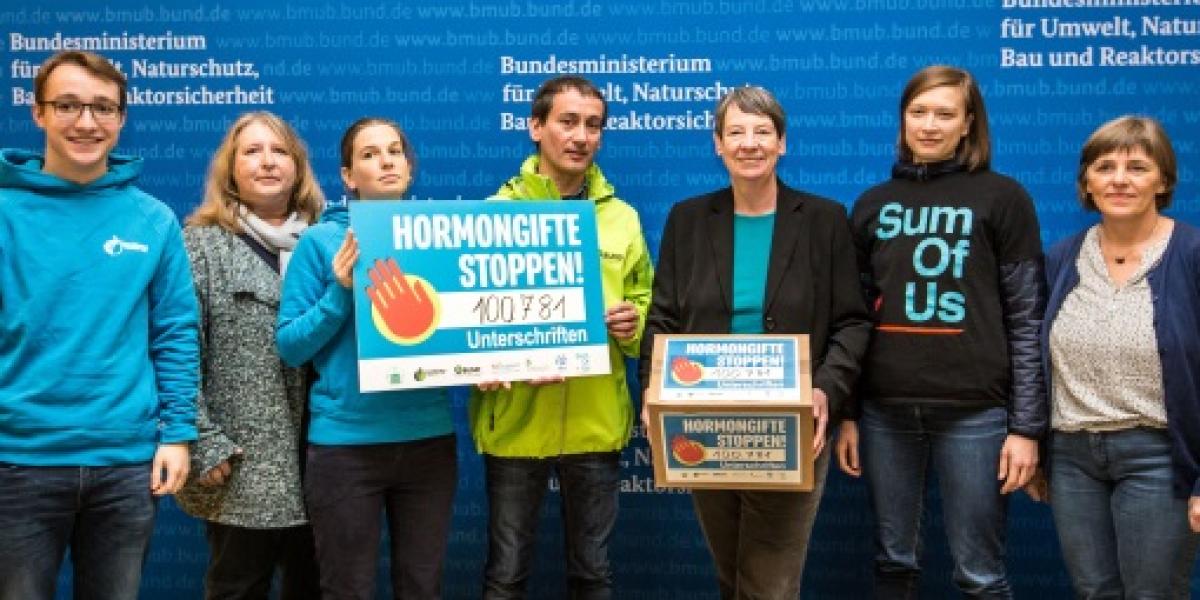 [Berlin / Hamburg / Munich]
More than 100,000 people have demanded more protection from hormone-damaging chemicals. In Berlin, an alliance of German non-governmental organizations has handed over 100,000 signatures of the joint online petition "Health is at a halt - stop hormone disruptors" to Federal Environment Minister, Barbara Hendricks. Through the petition, NGOs and activists called upon Germany's strong commitment to high standards of protection for humans and the environment against the dangers of hormone-damaging substances, and for the country to take a clear stance toward the EU Commission's insufficient proposals to regulate these substances.
Through the petition, citizens worked together with non-governmental organizations such as WECF, PAN Germany, BUND, Umweltinstitut München, SumOfUs, HEJSupport and the coordination against Bayer; this allowed them to express their concerns regarding the dangers of the Commission's proposals (currently under consideration) for identifying criteria for substances with hormone-damaging properties.
The non-governmental organizations recently sent open letters to the Federal Minister of the Environment and to the Minister of Economic Affairs of the Federal Republic of Germany, Schmidt, urging them to advocate further improvements to the Commission's proposals for the identification of such chemicals, which have already been revised but are still considered inadequate by the NGOs. Above all, these environmental organizations criticize that the burden of proof for the identification of hormone-damaging substances is still far too high, resulting in the near-impossibility for the latter to be regulated. Furthermore, the Commission insists on considerably extending the derogations for the further use of hormone-damaging pesticides.
When
Wednesday, November 30, 2016 - 00:00
Where
External links